Mould in children's beakers – a cause for concern for parents?
You may have come across the fury online over mould in children's beakers in recent days.
The Tommee Tippee brand have a plastic valve inside the beaker that traps mould that cannot be seen when washing up.
Here is a picture of the offending beakers with mould filled valve.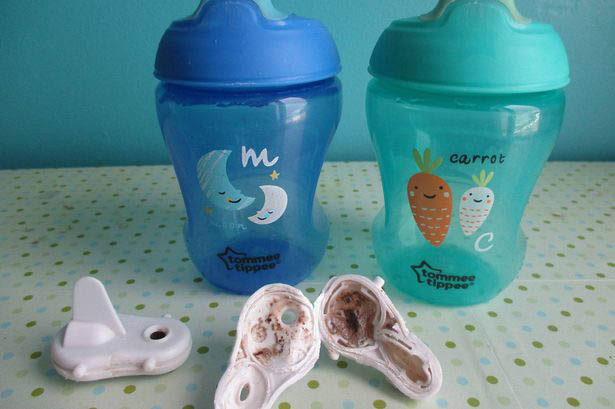 As compensation, the company have offered parents a replacement cup of their choice.
Their statement added: "In the meantime, we are making transparent, see-through valves immediately available to any parents that have concerns".
However, the concerned parents say the mould in children's beakers could make them sick.
How dangerous is mould?
Mould is a fungus that comes in thousands of varieties and grows both outside and inside. In order to thrive, mould needs two things: water and warmth -making the likes of a beaker the perfect breeding ground.
Up to one-third of children are allergic to mould (only pollen allergy is more common). Inhaling spores – the invisible airborne seeds of mould – can cause sneezing, runny nose, itchy eyes, wheezing, and coughing.
What can be done to avoid build up of mould in children's beakers?
The obvious solution is to find a beaker with individual components with see-through valves that can be easily cleaned.
However, it might be time to ditch the plastic beaker completely – and here's why?
When we went to purchase a beaker for our little girl last year we realised they were all made from plastic. With little choice in store at the time, we purchased one and tested it out. We noticed the water tasted different from it.
While looking for alternatives online we stumbled upon lots of articles on the dangers of plastic.
While Bisphenol A (BPA) has been banned from use since 2012, there are other potentially hazardous chemicals used in baby bottles and cups.  These chemicals leech from the plastic when heated or cooled and are a definite cause for concern.
This link is worth a read. There are also great links within this article for further research.
Here's what we use instead of plastic;
Before I proceed i think it is important to mention I have no affiliation to the brands I mention below. I'm sure there are others on the market that work equally well but these are the ones we've used for months and are incredibly happy with and can recommend without hesitation.
Klean Kanteen is a range of stainless steel bottles – they are a great alternative to plastic, safe, healthy, lightweight and reusable – free of BPA and other toxic substances. Here is a picture of the one we use.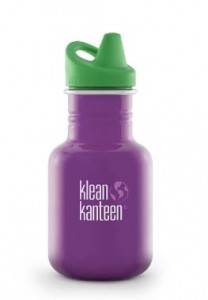 It's robust – it's been dropped on the floor a number times, and while it has a few dents, it hasn't affected its usability.
Here's a link to Klean Kanteen kid products.
For parents who prefer to see the liquid inside, we also use this Lifefactory glass bottle with the sippy cap attachment.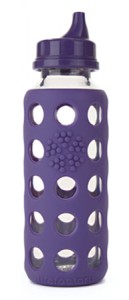 Don't be turned off by glass.  This thermal resistant borosilicate glass transitions safety from freezer to boiling water.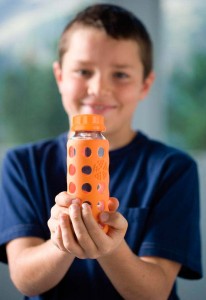 It has a really clever silicon sleeve that offers the child a non slip surface while protecting the glass from the occasional drop. Again, this has been tried and tested, we bought only one bottle and the glass has never broken.
At the time I couldn't find Lifefactory for sale anywhere in Ireland so we ordered online from the UK.
Although they are more expensive than the plastic alternative there's no reason they can't last a lifetime. In fact on their site they show you how.
Washing Klean Kanteen and Lifefactory is really easy.
We use two different sized bottle brushes (bought in a local discount store for €1.50) for cleaning.
All components in the bottles come apart and are easily accessible with transparent valves making for an easy clean – so, no room for nasty mould to spread its' spores.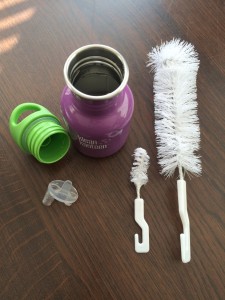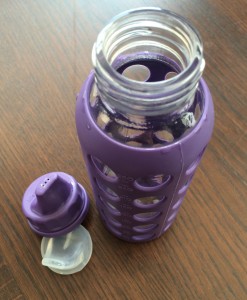 I wanted to share this information as I know a lot of people look for alternatives to plastic beakers but don't know where to start. I hope you've found how we've dealt with our concerns to be helpful.
If you think this post can of use to others, please share.