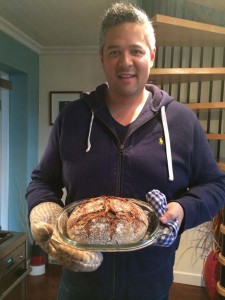 If you want to improve the health and wellbeing of your family a good place to start is cutting out commercial bread.
Have you paid attention to the ingredients on a label of your favourite white family sliced pan. If you don't have a sliced pan to hand google any of the "Family friendly" bread brands to find the ingredients;
Wheat Flour (Wheat Flour, Niacin, Thiamin, Iron, Calcium Carbonate), Water, Yeast, Salt, Soya Flour, Emulsifiers (Mono and Di Glycerides of Fatty Acids, Mono an Di Acetyl Tartaric Acid Esters of Mono and Diglycerides of Fatty Acids, Sodium Stearoyl – 2 Lactylate), Preservatives (Calcium Propionate, Acetic Acid), Vegetable Oil (Palm and Rapeseed), Flour Treatment Agent (Ascorbic Acid).
Fine, I hear you say, "I'll buy a brown multi-grain sliced pan instead" that must be healthier right? Wrong, a quick glimpse at the ingredients reveals;
Wheat Flour, Water, Multigrain Blend 17% (Malted Wheat Flakes, Sunflower Seeds, Millet, Kibbed Rye, Poppy Seed, Linseed, Rolled Wheat, Oat Flakes, Malt Flour, Rye Flour), Yeast, Salt, Soya Flour, Vegetable Fat & Vegetable Oil, Emulsifiers (Mono and Di- Acetyltartaric Esters of Mono and Di – Glycerides of Fatty Acids, Sodium Stearoyl Lactylate), Dextrose, Flour Treatment Agent (Ascorbic Acid), Preservative (Calcium Propionate)
Enzymes are the baking industry's dirty secret and they are slow to tell us that they use them. Enzymes extend the shelf life of bread and prevent it from going stale. I'm sorry, but I want my bread to go off, otherwise it just isn't real food. Our bread is laced with ingredients we don't understand, it's no wonder it clogs up our guts. And if each mouthful of bread contains less to nourish us, we naturally tend to eat more. A clue to rising levels of obesity, perhaps? Not to mention IBS and coeliac disease, a condition affecting the intestine with IBS-type symptoms such as bloating, constipation and diarrhea.
Whatever happened to making bread using flour, water, yeast and salt, 4 simple ingredients when combined with a bit of time produces a beautiful loaf, saving you money, is fun to do with family and friends and is damn tasty.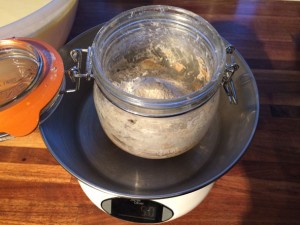 My wife and I started baking our own sourdough bread earlier this year. We heard a gentleman called Joe Fitzmaurice speak at a Weston A. Price seminar in Limerick. Joe's "Riot Rye Bakehouse" has started a movement called the 'Common Loaf' to empower Ireland to bake real bread. You can follow the process here, he has two simple videos to show you first, how to make the rye sourdough starter and the other how to make the loaf. Give it a go, it's fun to do it with your kids or grandkids. Give them the knowledge of how satisfying it is to turn flour, water, yeast and salt into a tasty loaf.