Pregnancy affects every woman differently. The changes in hormones, weight, and the stress relating to the birth all affect health during pregnancy. While Optimal Chiropractic cannot help with the hormones or weight gain – we can give pregnant women plenty of tips on how to glow with health. Today's post covers food and exercise to help retain optimum health levels while pregnant.
Foods You Should Eat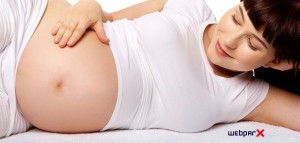 Despite the fact that the growing baby will need plenty of food and being pregnant will make you hungrier, it isn't necessary to eat double the usual food intake. Too much weight will make pregnancy uncomfortable and will also mean that more weight will be retained (and more difficult to shift) after the birth.
Eating a balanced and nutritious diet is best for mother and baby, although there are recommended essentials to aid foetal growth and keep mum glowing.
Calcium is top of the essential list. Calcium is key in the development of bones, muscles and nerves, so you will need an intake of around 1,000 mg per day. Your body cannot absorb any more than this. Calcium carbonate is easier for the body to absorb, so do opt for Calcium supplements, but check the label and some supplements can contain lead and this is harmful for the baby. Natural calcium is found in dark green vegetables, brazil nuts, coconuts, sardines and salmon.
Never has it been more important to consume your '5 a day'. Fruit and vegetables contain vitamins and minerals to aid digestion, and give you a fibre boost. For more on the various vitamins and minerals in you '5 a day', read our 'Five Ways to Boost your Immune System' post.
Folic acid (B vitamin) has been praised for limiting the number of birth defects. It's recommended that you take 400 mg before pregnancy 600 mg during pregnancy.
In general, keep your fat and sugar intake to a minimum. Not only will it help pile on the pounds, but it can affect the heart and cause teeth decay.
Remember to wash all foods and store them at the correct temperature. Try to opt for home-made foods and decrease the amount of 'quick' meals. Choose meats that are lean and cook them thoroughly.
Foods You Should Avoid
Raw or partially-cooked foods need to be avoided as these can harm the baby. These include unpasteurised milk, cheeses with mould like Danish Blue, cured meats, pate, shellfish and certain types of fish, sushi, liver and peanuts.
Raw meats can cause Toxiplasmosis (parasite infection), raw foods can induce food poisoning and pate can contain listeria.
Oily fish is fine, but limit your intake. Tuna and salmon may contain higher levels of mercury than other fish, so reduce their intake and lean towards smaller fish such as sardines and mackerel. Mercury can seriously damage the baby's nervous system.
Exercises That Are Safe
Staying active while pregnant is guaranteed to keep your body in tip-top shape. Exercise is known to help with labour and is beneficial after the birth.
At the beginning of pregnancy, your normal exercises (running, sports, cycling) are fine, however after a few months, your shape will begin to change and moving to 'lighter' forms of exercise will stop the chances of your bump being knocked.
Pilates, yoga and swimming are the best forms of exercise for expectant mothers, as they are nice and gentle on the body and will help you focus to blot out any stresses. Swimming gives you the option of meeting other mums at Aqua Aerobics and the exercises can be tailored around pregancy. Exercises that tighten the stomach and strengthen the pelvis are ideal and will help with backache later in pregnancy.
Exercise Tips
Always warm up and cool down
Avoid strenuous exercises
Drink plenty of water while exercising and keep yourself cool
Know your limits and don't over-do the exercise
Take it easy. Take your time and stop if you feel any pain
A Word from Dr Ben
'Pregnant women benefit from Chiropractic care as the adjustment helps to regulate all the body functions and keep the spine working correctly to help reduce back pain. A number of studies show reduced labour time, 50% reduction in the need for painkillers during the delivery and more comfort in carrying and delivering their child while under chiropractic care.'
If you are pregnant and would like to enquire about a Chiropractic adjustment, we're always available on 021 487 8465.
Image credit: Webparx