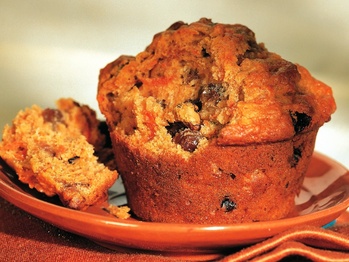 Waking up to a good meal can offer a boost of energy during the darker days of winter, so it's worth the effort to prepare something tasty and nutritious. These muffins are healthy but also extremely convenient as they can be made ahead of time to help you avoid a mad dash in the morning!
All you need is:
250ml All Bran cereal
250ml buttermilk or sour milk
1 egg, beaten
175ml finely shredded carrots (about 2 medium)
3 tbsp (45 ml) vegetable oil
250g all purpose flour
50mg packed brown sugar
2 tsp (10 mg) baking powder
¾ tsp (4 mg) ground cinnamon or allspice
½ tsp (2 mg) baking soda
½ tsp (2 mg) salt
Directions
Preheat oven to 400°F (200°C).
In a bowl, combine bran cereal and buttermilk. Let stand for about 5 minutes. Add egg, carrots and oil; mix well.
In another bowl, combine flour, brown sugar, baking powder, cinnamon, baking soda, salt and bran mixture; stir just until blended.
Spoon batter into prepared muffin tin. Bake in preheated oven for 15 to 20 minutes or until browned.
These flavourful low-fat muffins are easy to prepare, using bran cereal, and have a short bake time of only 15 to 20 minutes. Give them a go, and tell us what you think!