We could talk all day about the benefits of Chiropractic for those who suffer from back pain and sciatica. In fact we have written many articles about it; see here, here, here, and here.
However nothing quite explains it better than the people who have found relief and have kindly written about their experience in our office in Ballincollig.
I'd like to share our patients words and their stories with you.
"I have been attending Optimal Chiropractic for the past couple of months and the improvement in my back pain in such a short time is amazing. Dr Ben and Dr Guillaume are brilliant at what they do. They have such a genuine interest in bringing their patients back to full health. From my first visit I was made so welcome ,the whole team are so professional and make you feel very much at ease.I have no hesitation in recommending Ben and his team."

"Dr. Ben looked after me throughout my three pregnancies when I suffered really bad sciatica. 
He got me back on track, allowing me to walk every day right up to due date. 
I believe this care from Ben also helped in the natural delivery of three healthy babies who were also adjusted at just a couple of weeks old. 
Today I visit him regularly and always look forward to seeing the always welcoming team. Easily the best Chiropractor in Cork – highly recommend." Christine

"I have been suffering with my back for a long time now and my brother recommended I go and see Ben and his team at Optimal Chiropractic. I have to say it is the best thing i ever did. 
I was hunched over taking pain relief 3 times a day and at times barely able to walk and drive. 
The day I walked in the door the team were very welcoming and came up with a plan to help me get back to myself. 
Nearly 3 months on and I'm a totally different person . With 2 adjustments a week and exercise at home i found my back has improved dramatically. 
Pain relief has been reduced I have better posture and I'm more aware now of the things that can do damage to my back.

I'd like to thank everyone at Optimal Chiropractic for everything they have done.
I'm not 100% yet but I will get there with the help of this fantastic team.
Thanks again" Trena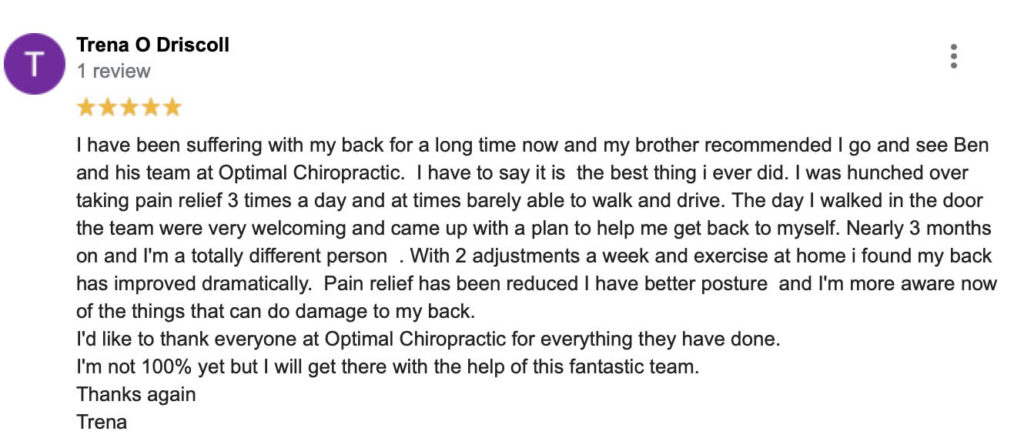 "I came across Optimal Chiropractic in pure desperation as i had severe back pain with Sciatica to boot.
 I was very nervous when i first came into Ben. I was afraid he could make things worse. 
Ben is as gentle and kind as he looks and helped make me feel secure in the knowledge that yes he would be able to fix my back. 
I felt there was light at the end of the tunnel after 3 months of being in constant pain. Within two or three sessions i felt much better. 
I am still getting treatment as i have a long way to go but i have the confidence to say i will be 100% in another few weeks. 
All The staff are very caring and always smiling but most importantly they are very genuine! 
I couldn't recommend them highly enough and to tell you that yes you will be in safe hands." Gemma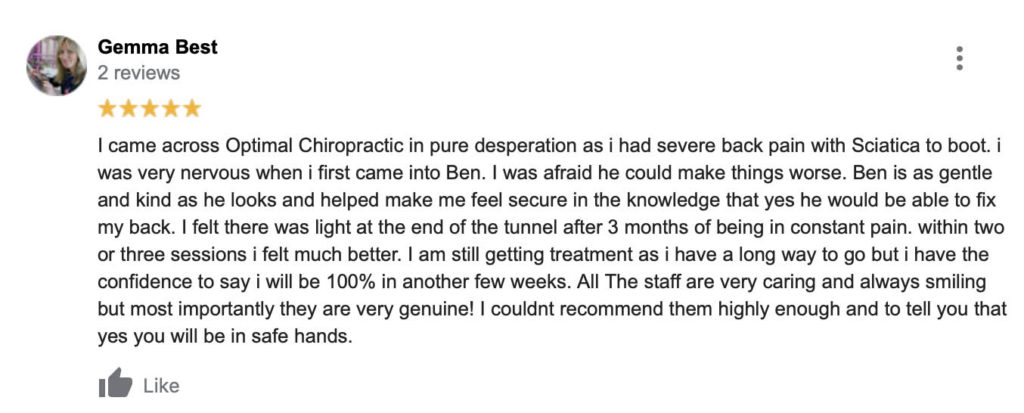 "Hi…. It's really big thanks to Dr Ben from me because I m really suffering to my back pain last five years can't sleep full term before. But when I came to Dr Ben he help to out on this. All staff so nice & good also. Really thanks "Ben".. with regards Harminder"

If you are looking for a Chiropractor in Cork to help with low back pain and sciatica or other chronic pain conditions, visit Dr. Ben Martin in Ballincollig. Call 021 487 8465.
If you would like to receive the benefits of Chiropractic in your life you can request a 15 min free posture analysis in our office in Ballincollig. (Private message us or call 021 4878465)
Why a Postural analysis?
Poor posture while sitting or standing can cause misalignment, fatigue and or excessive stress on the body.
We can also recognise areas of the spine that aren't moving the way they should and determine if a misalignment (subluxation) is the reason for any pain the body is experiencing.
If Chiropractic care is not right for an individual, the team will do their utmost to point them in the right direction.
Drop us a line today, or share this post, we'd love to help.