Our first charitable event this year is extremely close to our hearts. From 13th to 17th February, our Valentine-inspired charity event means that when you book an appointment with us, you will receive an initial consultation for just €20*. Call the office on 021 487 8465 to book.
In memory of …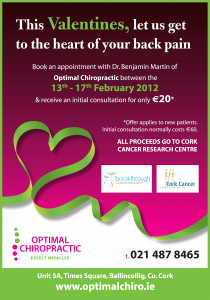 All of our proceeds will be sent to the Cork Cancer Research Centre to aid invaluable research that could save thousands, if not millions. We selected this charity in memory of Sandra McCarthy, a team family member, who sadly lost her battle with Cancer at Christmas. For those who have lost loved ones to this terrible disease – we hope; even in a small way, that our donation will save lives or at least make them more comfortable.
This year we have plans for a number of key charity events in Cork. We hope that you will support us in our efforts, because together we can achieve great things.
Why not join us on Facebook and Twitter, that way you can hear about our charity events as soon as they are live.
As always, if you need us, just call the office on 021 487 8465.
*Offer available to new patients only.