Chiropractic is often described as the secret weapon to an athletes successful athletic performance.
In fact, it is estimated that over 90% of all world-class athletes use Chiropractic care.
Every NFL team in the US and the U.S. Women's Soccer Team has a chiropractor as part of their team of experts.
Golfers who belong to the Professional Golfers Association (PGA) and most Olympians also enjoy the benefits of Chiropractic Care.
At the 2012 London Olympic Games, Chiropractors for the first time were included as part of the Olympic Medical Centre.
The inclusion of Chiropractic at the London Games reflects it's effectiveness and the advances that the profession has made in the last decade.
Chiropractic care delivers an edge in these professions where fractions of seconds and inches determine the difference between world champions and defeat.
Here is a list of sports people who use Chiropractic and are known worldwide as being the very best in their game:
from golfers like Jordan Spieth and Tiger Woods.
Footballers Ruud van Nistelrooy and Cristiano Ronaldo.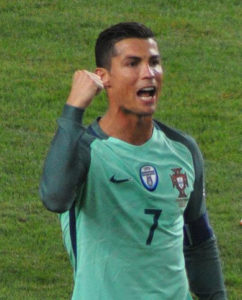 Ronaldo is a great fan of chiropractic care and credits it with helping his back problems.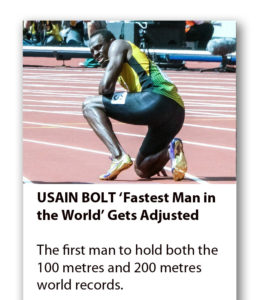 Olympic athletes like Usain Bolt (Fastest Man in the World) and Cyclist Bradley Wiggins, Volleyball gold medalists Misty May-Trainor and Kerri Walsh and Swimmer Michael Phelps are big  fans of chiropractic care.
Ronda Rousey (MMA)
Evander Holyfield (Boxing)
Arnold Schwarzenegger (Body Building)
Tom Brady & Joe Montana (American Football)
Michael Jordan (Basketball)
If you're a golf fan you'll have heard of Jordan Spieth.
He's one of the few golfers ever to win 2 major golf tournaments in the same year.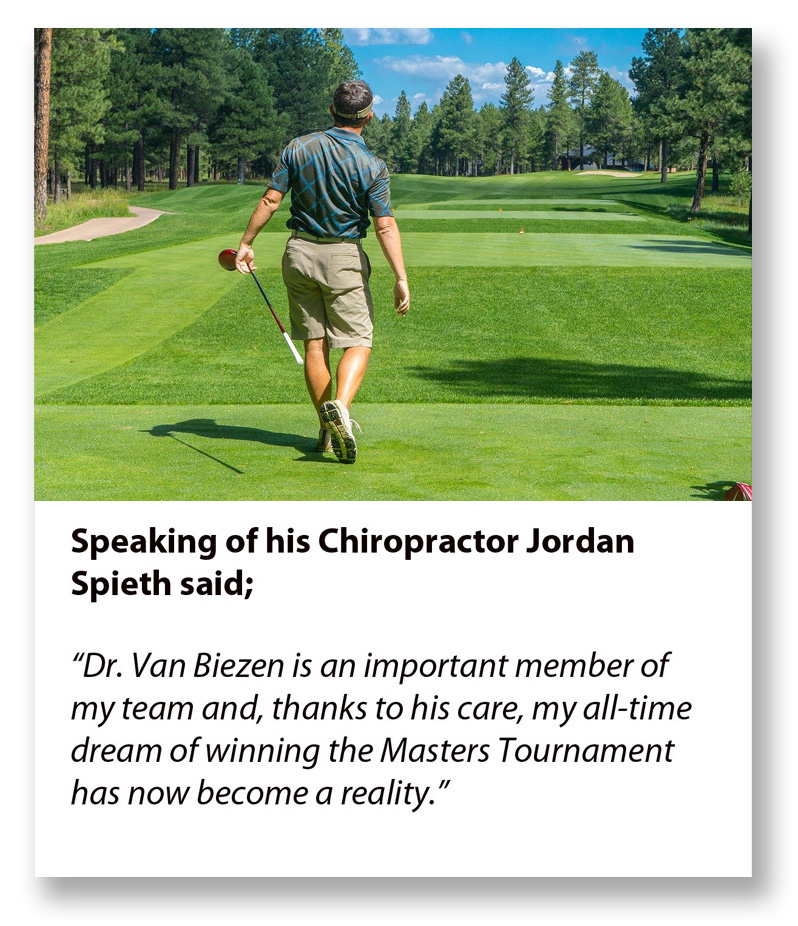 At the Master's tournament in April 2015 the then 21 year old speaking of his Chiropractic he said;
"Dr. Van Biezen is an important member of my team and thanks to his care my all time dream of winning the Masters Tournament has not become a reality."
How does Chiropractic provide that extra edge to professional athletic performance?
Well, research of the adjustment proves a subsequent benefit to focus, concentration, hand-eye coordination, reflexes, muscle strength and recovery.
Additionally, when stress hormones are reduced through a chiropractic adjustment, visceral organ improvements have also been scientifically proven and documented.
Above all, those benefits include increased immunity, improved heart function and blood flow, better breathing, digestion, and sleep quality.
10 Ways Chiropractic improves athletic performance as well as offering several health and wellness benefits vital to everyone:
1. Improved Posture
2. Increased Range of Motion
3. Increased Flexibility
4. Reduced Risk of Injury / Pain Preventation
5. Improved Recovery After Sports Injuries
6. Increased Blood Circulation and Oxygen Flow in Body
7. Pain Reduction in Major Joints
8. Better Focus and Concentration
9. Reduced Stress
10. Improved Immune System (for warding off common illnesses and diseases)
It's proven that Chiropractic empowers amateur and elite athletes with better healing, performance, and recovery.
Chiropractic definitively helps athletes recover quicker after encountering the traumas that accompany both practice and competitions.
In conclusion, If you play sport and want to gain an advantage in your game please do consider chiropractic.
We already sponsor elite athletes in our office in Ballincollig and would love to support you on your journey as a professional athlete. 
If you are in Cork, call us on 021 487 8465, we would love to meet you.