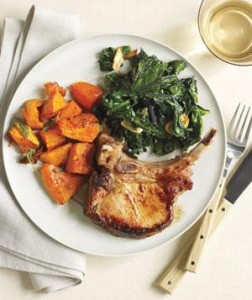 Serves 4
Ingredients
1 small butternut squash peeled, seeded, and cut into 1 1⁄2-inch pieces
1/4 cup fresh sage leaves
2 tablespoons plus 1 teaspoon olive oil
Salt and black pepper
4 bone-in pork chops
2 garlic cloves, thinly sliced
1 large bunch kale, thick ribs removed and leaves roughly chopped
Directions
Heat oven to 200° C. On a large rimmed baking sheet, toss the squash with the sage, 1 tablespoon of the oil, ½ teaspoon salt, and ¼ teaspoon pepper.
Roast, tossing once, until tender, 30 to 35 minutes.
When the squash has cooked for 20 minutes, heat 1 teaspoon of the remaining oil in a large skillet over high heat. Season the pork with ½ teaspoon salt and ¼ teaspoon pepper. Cook until browned, 3 to 5 minutes per side.
Transfer the pork to the baking sheet with the squash and roast until the pork is cooked through, 6 to 8 minutes more.
Meanwhile, return the skillet to medium heat and add the remaining tablespoon of oil. Add the garlic and cook, stirring, until fragrant, about 30 seconds. Add the kale, ¼ cup water, and ¼ teaspoon salt. Cook, tossing the kale and scraping up any brown bits on the bottom of the skillet, until the kale is tender, 5 to 7 minutes. Serve with the pork and squash.
Try the recipe and let us know what you think!