Sleep is the body's natural way of healing. Without sleep, our body physically wears down faster, our moods would be bad and our brains would cease to function correctly.
As sleep is such an important function and sleep disorders cause discomfort to the back, shoulders and neck, this week I asked my friends and fans about their personal sleeping issues.
The questions below are quite surprising, with a common theme of pain. My belief is that a lot of us look to change the sleep deprivation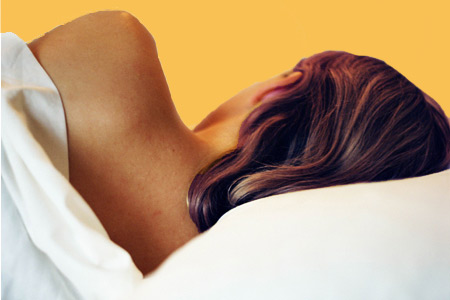 external factors in our lives, hoping that it will help the way we feel and function, rather than looking at the cause which may actually be coming from within us. Instead of changing pillows and mattresses, which ease the problem, perhaps we should look to understand the root cause and fix this.
If you asked a question on our Facebook page, then I hope you find the answers informative. If you would like to ask a question, then please add it as a comment here.
1) I find my shoulders and neck ache when I sleep. What do you suggest? (Tina)
One option is to get a good quality orthopaedic memory foam pillow. We sell them in the office for €60 each. It is important to get good support in your neck while you sleep. We have a natural C shaped curve in our neck, and when we sit at computers all day long that natural curve starts to straighten, so a good pillow can help to enhance the way our neck should be positioned.
2) I'm a terrible insomniac – or maybe a brilliant one…! I get 3-4 hours sleep on a bad night, I know it's stress-related but my neck and shoulder always sore too.. any suggestions? (Aoife)
Again, an orthopaedic memory foam pillow would help. It is really important to try to de-stress at night before lying into bed. Going straight from the couch, TV, work or even a book, straight into bed can be very hard to switch the mind off for some people. There are some good relaxation/meditation CDs out there that can be very helpful.
3) I use a memory form pillow and I still wake in agony takes me hours to drift off can't get my head and neck comfy enough and if I turn on my sides, my shoulders cave in and I suffer for it the following day. (Pauline)
Stress can inhibit the body from normal sleep. Try some natural oils/essences to burn or drop onto your pillow case. Lavender and camomile and good (http://altmedicine.about.com/od/massagethera2/ht/essentialrelax.htm). People need to prepare for bed if they don't sleep well long before they look at going into the bedroom. Look at switching off an hour before you get into the bed. Relaxing teas, burn relaxing oils, and make sure the TV/computer is switched off well before bedtime.
4) I just cant sleep full stop. I go about 2 nights a week wide awake. Sometimes in a row sometimes apart…and when I do, the shoulder is crippled! (Colm)
It could be that the mattress and pillow you currently sleep on is not a good match for your body shape or sleeping position. A memory foam pillow should adjust for your head and ease the pressure on your shoulders. Try a few drops of lavender on your pillow to calm and lull you into sleep.
5) What is the best pillow for someone who tosses and turns all night long?  (Catherine)
Orthopaedic memory foam is the best for everyone but use the same responses to earlier questions to unwind before bed. Maybe the mattress also needs to be looked at to make sure it is giving you the comfort you need. Again, a memory foam mattress is best or a cheaper option is to use a memory foam mattress topper that we also sell. This can be placed directly on top of your existing mattress. These can be extremely useful for people in rented accommodation as the quality of the mattress is often poor.
The general theme of all questions above was that people are putting up with pain that they should not be. The reality is that if the back, neck and shoulder problem was corrected, it would be unlikely that the aches and pains would continue. In fact, better sleep and more importantly; waking up feeling refreshed, is one of the greatest positive effects that my clients tell me they have received since starting their chiropractic care.
Here's my Ireland AM interview with plenty of sleep-related advice.
I hope the above responses have helped. If you are suffering from insomnia or pain after sleeping, then you can always give us a call at Optimal Chiropractic on 021 487 8465.