Could a love of high heels be the bearer of years of pain? The abnormal weight-bearing posture when wearing high heels can strain the lower back and neck, and increase pressure on the feet, ankles and knees.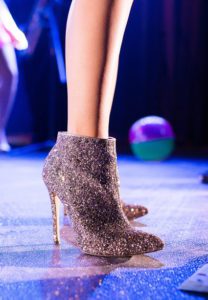 According to Optimal Chiropractic's Dr Benjamin Martin "Problems associated with wearing high heels effect the entire body, particularly the knee, hip and back. Heels result in an anterior shift of the pelvis which causes an increase in the angle of the small of your back. Women in Cork and the world over love their high heels but they need to be aware that the overuse of high-heeled shoes poses long-term health risks."
Here you will find our tips for selecting footwear, maintaining a healthy back and easing sore feet.
Selecting footwear
When shopping for shoes, bring along this check list to help you decide on which pair to buy. Remember that your feet carry the entire weight of your body and an uncomfortable pair of shoes can cause strain across the whole body, and can even give you headaches or a sprained ankle.
Select heels that are no more than two inches for everyday use
Choose heels that are more platform (square) than stiletto heel
Make sure you find the best 'fit' and not a shoe that is too loose or too tight
Choose shoes with a comfy insole and that have straps to support the foot when walking
Avoid pointy shoes which pinch the toes
Walk around in the shoes before you buy to test how they feel and see if they rub anywhere
When buying your shoes, purchase some heel inserts at the same time, or insoles to stop rubbing and increase comfort
Tips to a healthy back
Your feet are your body's support and assist with good posture.
Minimise the length of time you spend wearing heels in general
Try not to stand for too long at any one time in high heels
When sitting, remove your shoes and stretch out your feet
Carry flat shoes with you in your bag, so you can swap shoes when walking long distances
Remove your shoes when in the house and wear flat slippers
Regularly visit a Chiropractor
Easing sore feet
Look after your feet, especially after wearing high heels.
After wearing high heels, soak your feet in hot water
Use a scrub or pumice stone to remove any hard skin
Smooth on peppermint cream to cool the skin
Pamper your feet at the spa every now and again
On a positive note, flat shoes are very much in fashion again this year, so you won't need to sacrifice a fashion fix to look after your back, neck, knees and feet.
We hope you find shoes that are comfortable and supportive; however, if you do stick to the high heels and experience strain when walking, you can always give us a call at Optimal Chiropractic.