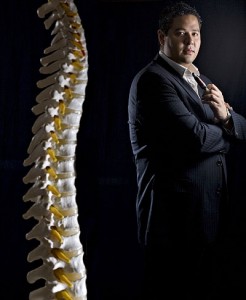 Hi everyone, and welcome to my first blog on Chiropractic care. I'm Dr Benjamin Martin, and I'm a Chiropractor based in Ballincollig, Co. Cork.
Chiropractic is underutilised in Ireland, so I endeavour to open your eyes to the art and philosophy that is Chiropractic. I am very passionate about my profession but also have a strong scientific background, so will only ever make comments when I know I have scientific validity to back it up. Much of the fear and scepticism around Chiropractic is unfounded and I wish to offer the community in Cork options and choices for their health, so that they are not stuck at the same levels of poor health and quality of life forever.
Low-Force Corrective Care with the Activator
The most common fear that I hear about Chiropractic is that people hate the idea of someone twisting their neck and injuring them. I specialise in low force corrective care, which makes me different to most Chiropractors in Ireland as I don't have to do the 'twist and crack' adjustments normally associated with Chiropractic care. I am one of seven chiropractors in Ireland trained to the highest international accreditation level of the Activator technique (www.activator.com). It is the most used low force technique in the world. The Activator instrument is a small hand held instrument that delivers a controlled, light, and fast thrust, without causing undue strain to patients. Activator adjustments are so quick and controlled, your body's muscles are less likely to resist, allowing for a more precise and exact adjustment. One of the unique features of the Activator technique is that we can zero in on the exact area of the body that is causing your health problems and correct it without affecting any of the areas that are working correctly.
Over the coming months and years I will cover a huge number of topics about Chiropractic and also about conditions that Chiropractic is successful in helping. I would love any feedback on my posts and if you ever have a question that you would like me to write about, please feel free to ask.
Get in Touch
If you would like to get in touch to find out how chiropractic care can help you, call us on 021 487 8465. You can also connect with us on Facebook and Twitter!