The Prescription Painkiller Epidemic in Australia by Dr Paul Calladine
What's the problem?
According to health experts, Australia is in the midst of an 'opioid epidemic' with deaths from drug overdose continuing to rise. Despite social perceptions around illicit drug use and drug overdose, new statistics reveal that legally prescribed painkiller medications are a bigger problem.
The problem is that more people die from prescription medication overdose than from illicit drugs. Additionally, many drug prescriptions are for musculoskeletal issues, such as back and neck pain, despite new questions around their efficacy in treating spinal pain.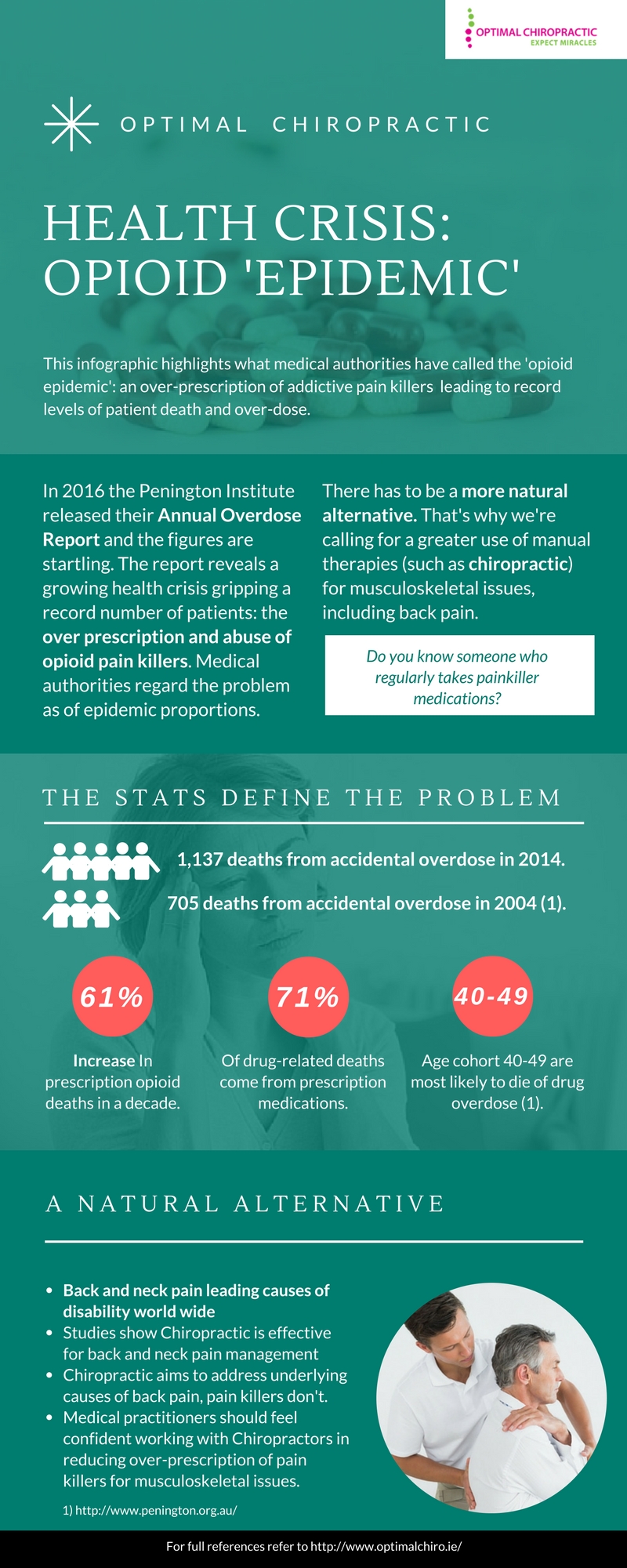 'Opioid epidemic' in Australia – key facts and figures
A new national report, Australia's Annual Overdose Report 2016 (1), published by the Penington Institute (an Australian research organisation setup to prevent and respond to problematic drug use) has revealed some startling figures.
Key facts and figures, summarised below:
61% increase in death due to accidental overdose, growing from 705 in 2004 to 1,137 in 2014
In 2014 prescription medications were responsible for more drug-related deaths (71%) than illicit drugs (29%)
87% increase in prescription opioid deaths in Australia between 2008 and 2014
Pain medications are prescribed for a variety of reasons, including treating chronic and severe cancer pain. Painkiller meds also prescribed for musculoskeletal pains such as back and neck pain. It is the latter that has been called into question recently.
Are painkillers effective treatments for back and neck pain?
We know that spinal pain, specifically neck or back pain, is a leading cause of disability around the world (2,3). In terms of treatment options for neck and back pain, clinical guidelines recommend paracetamol, non-steroidal anti-inflammatory drugs (NSAIDs) and opioids for spinal pain (4).
The landscape in this area is shifting rapidly. Questions around the efficacy of pain medication for the treatment of spinal pains are being asked.
Several recent studies show "paracetamol is ineffective in the treatment of low back pain" (5) and for opioids "opioid analgesics provide modest short-term pain relief but the effect is not likely to be clinically important" (6).
Additionally, adverse events associated with opioid use have been well documented (7).
A natural approach to manage back and neck pain
Chiropractors commonly help patients with spinal pains including back and neck pain. Chiropractic care offers a drug free, hands-on approach to addressing musculoskeletal issues in many cases.
What do you think about this research? Is it possible that, in some cases, a 'chiropractic first' approach to spinal pain may help ease this 'opioid epidemic?'
Although the increase in opioid use and overdose is an urgent issue to be addressed, at the same time there is growing awareness that other treatment options may better address pain and with less harmful side effects.
It's worth considering.
References
1. http://www.penington.org.au/overdoseday/ Penington Institute Australia's Annual Overdose Report – 2016. Based on data from the Australian Bureau of Statistics (ABS).
2. Hoy D, March L, Brooks P, et al. The global burden of low back pain: estimates from the Global Burden of Disease 2010 study. Ann Rheum Dis 2014;73:968–74.
3. Hoy D, March L, Woolf A, et al. The global burden of neck pain: estimates from the Global Burden of Disease 2010 study. Ann Rheum Dis 2014;73:1309–15.
4. Koes BW, van Tulder M, Lin CW, et al. An updated overview of clinical guidelines for the management of non-specific low back pain in primary care. Eur Spine J 2010;19:2075–94.
5. Machado GC, Maher CG, Ferreira PH, et al. Efficacy and safety of paracetamol for spinal pain and osteoarthritis: systematic review and meta-analysis of randomised placebo controlled trials. BMJ 2015;350:h1225.
6. Abdel Shaheed C, Maher CG, Williams KA, et al. Efficacy, tolerability, and dose-dependent effects of opioid analgesics for low back pain: a systematic review and meta-analysis. JAMA Intern Med 2016;176:958–68.
7. Prescription Opioid Policy: Improving management of chronic non-malignant pain and prevention of problems associated with prescription opioid use. Sydney: Royal Australasian College of Physicians; 2009.
Written by Dr Paul Calladine of NSW Australia, read more about Paul here.