As the evenings get darker and colder, we know that outside activities hold less appeal. However, we urge you this winter to carry on the 'Straighten up' message right through Christmas and into the New Year. After all, exercise is for the whole year; not just for Christmas.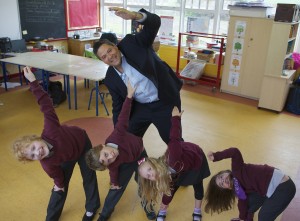 In October, we joined forces with the Chiropractic Association of Ireland to share the 'Straighten Up' message with our friends and fans for World Spine Day. This yearly event involved appealing to adults and children alike, to look after their backs.
So in the run-up to Christmas and New Year, and despite the rain or snow; we want you to find ways to stay fit and active. You might recall the 'Straighten Up' campaign exercises (you can do these daily to improve your posture) or you might exercise while playing the Wii or X-box Kinect. Whatever exercise you do decide on, be good to your back!
We hope you enjoy getting active this winter, and if you do happen to experience any strain while exercising, you can always give us a call at Optimal Chiropractic.